Maximize the marketing value
of every podcast episode.
Grow your audience and increase sales by using our ready-to-publish
marketing assets to promote your show on every platform.



THE CHALLENGE
Your job isn't finished when you click publish.
In fact, it's just getting started. If you want to maximize reach and minimize wasted effort, you need to spend just as much time promoting an episode as you do producing it.
For teams that don't have the knowledge, skills, or time to do it themselves, Castaway is the perfect solution.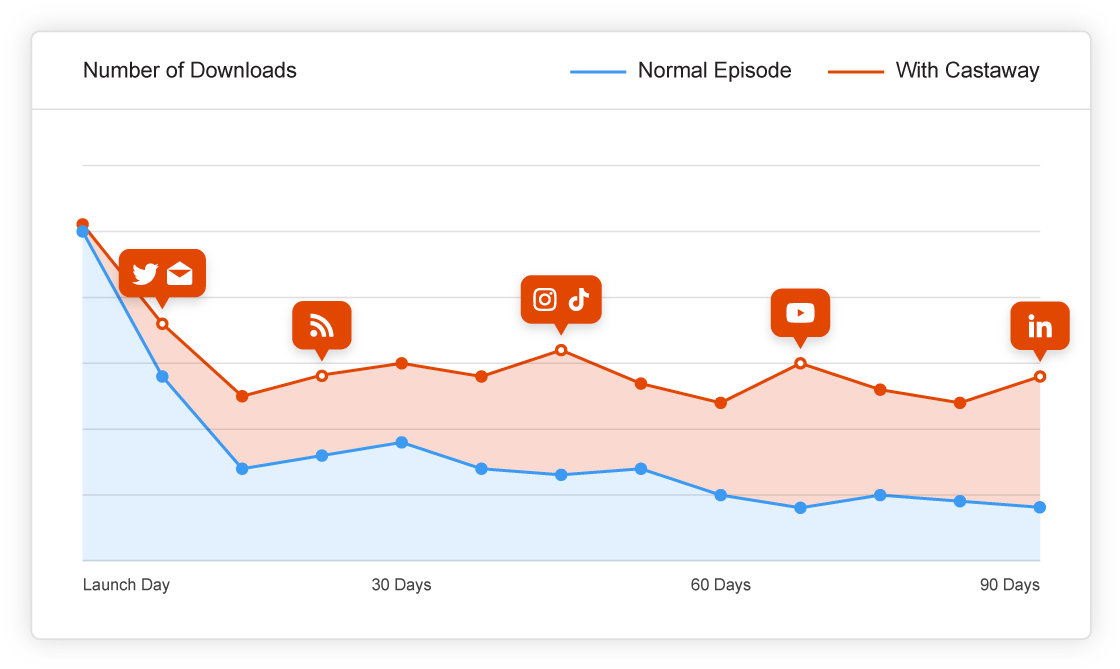 THE SOLUTION
A comprehensive promotion
strategy for every episode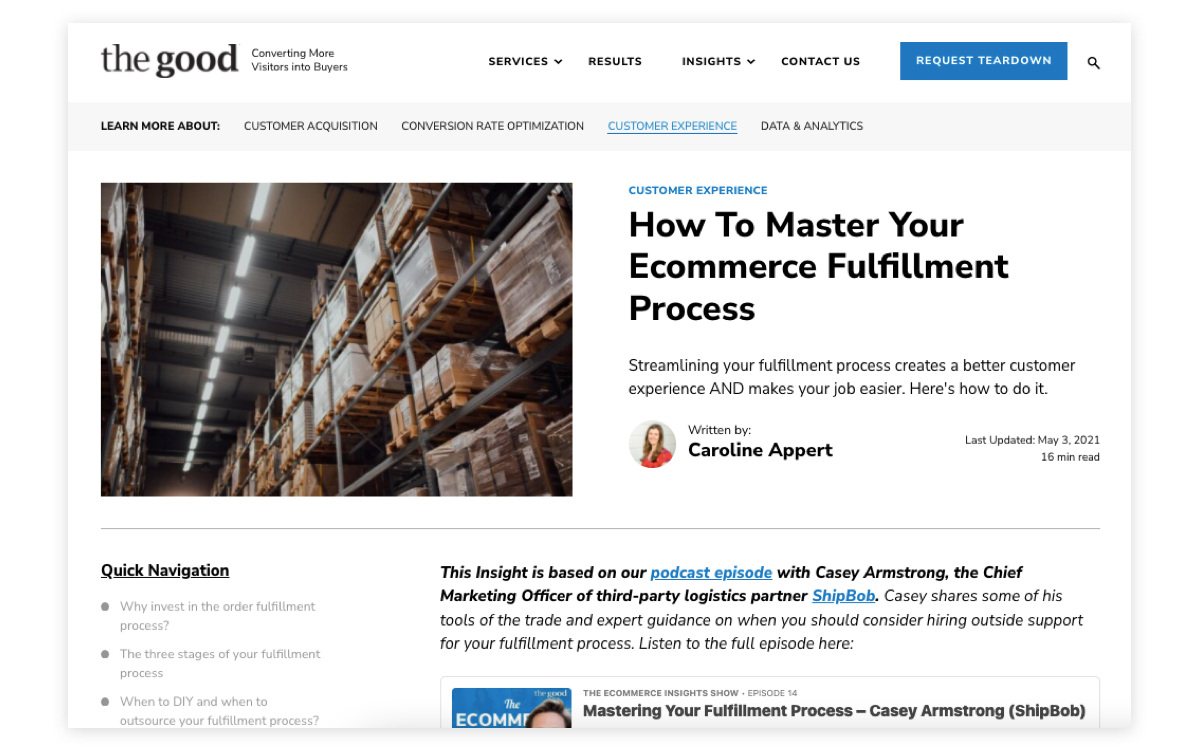 Podcast →

Blog Article

Organize your insights into an engaging article that has tangible business value.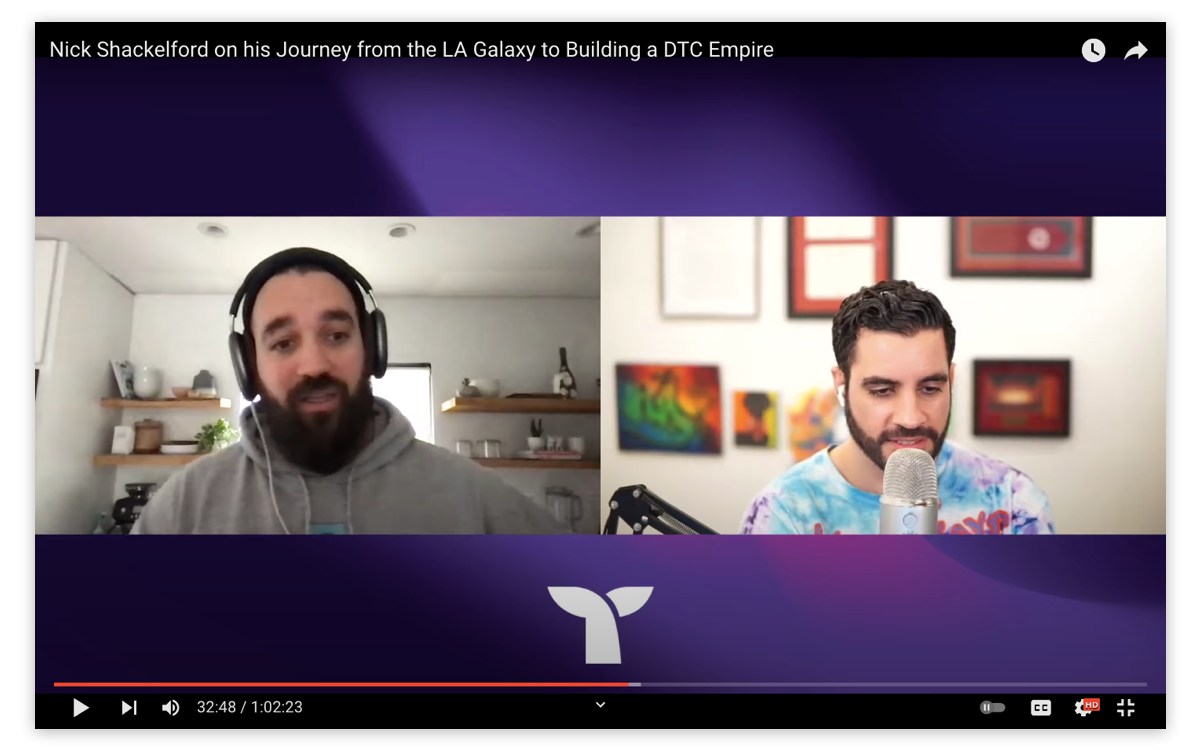 Podcast →

YouTube

Get your show in front of new subscribers on the world's second biggest search engine.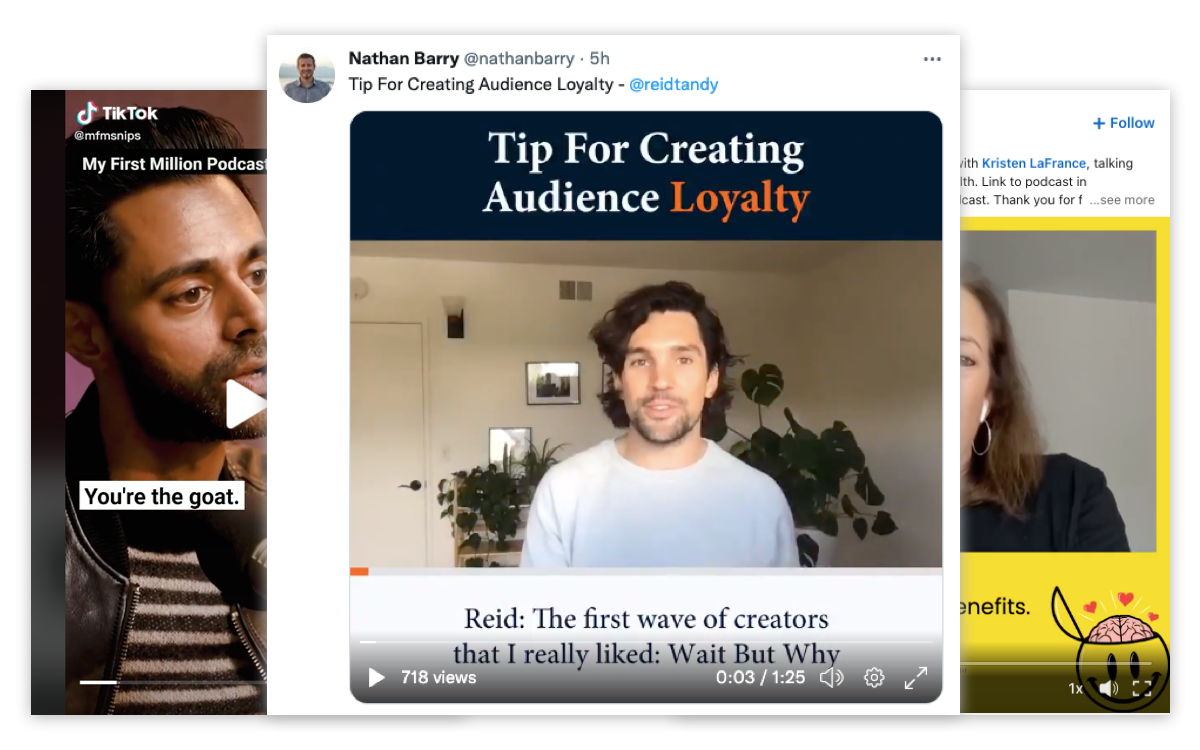 Podcast →

Video Clips

Highlight the juiciest parts of the conversation to attract new listeners to your show.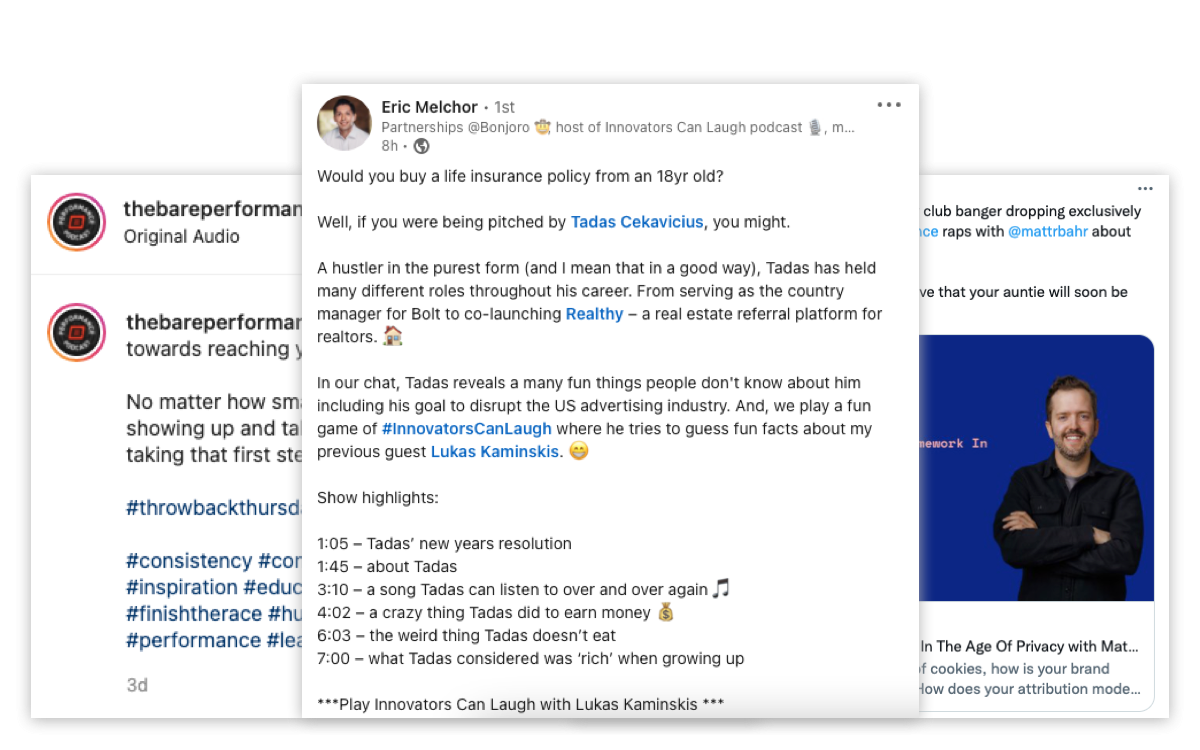 Podcast →

Social Posts

The feed never sleeps. Recycle your best content for anyone who missed launch day.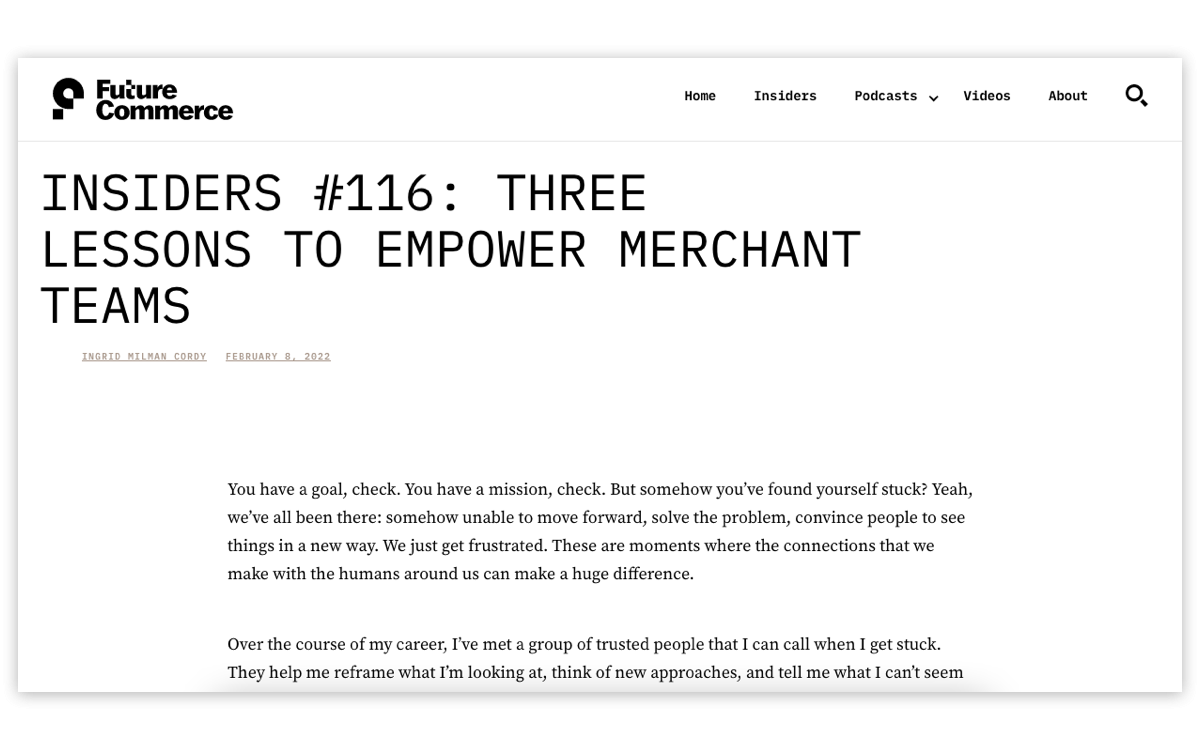 Podcast →

Newsletter

Most show notes suck. Treat your subscribers to an episode recap that's actually valuable.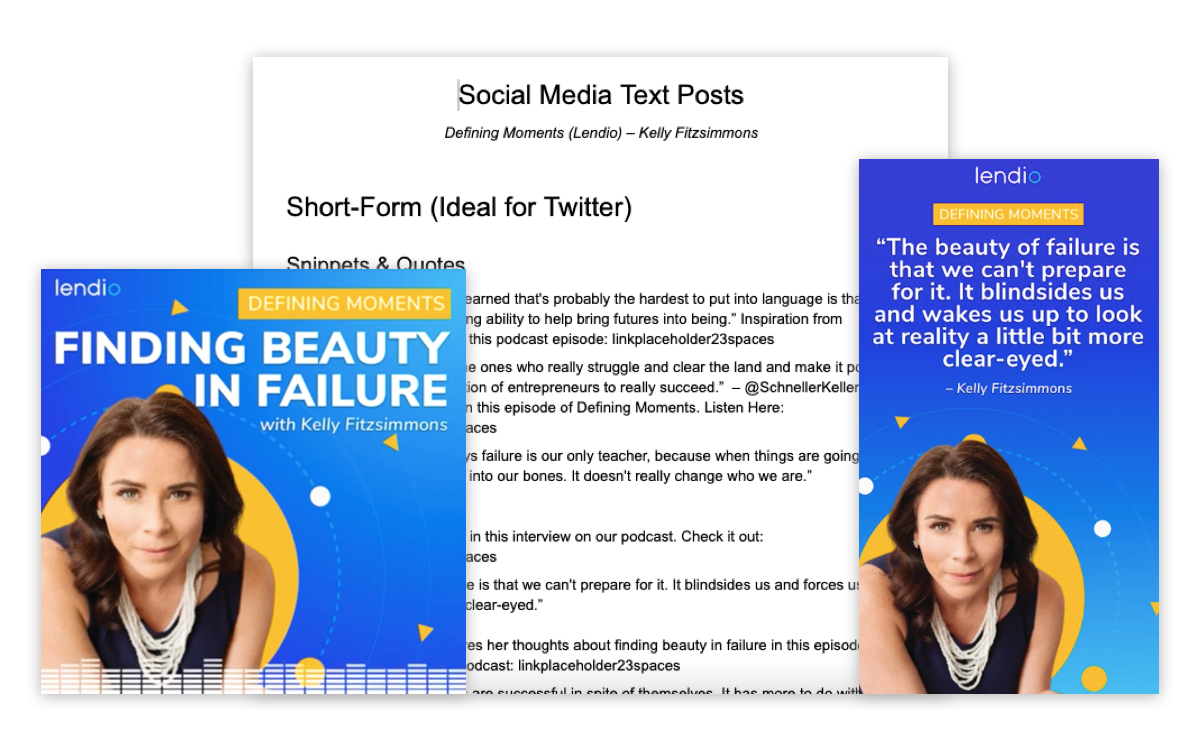 Podcast →

Media Kit

Equip your guests with material to amplify their authority and send you more leads.
THE PROCESS
We get shit done without getting in the way.
Employees need to be recruited, hired, and trained. Freelancers need lots of hand-holding. We can hit the ground running today and give you peace of mind.
Step 1: Collect The Raw Materials
We gather things like your logo, color palette, fonts, headshots, design preferences, and audio/video files.
Step 2: Produce + Approve Templates
We produce a set of branded templates that stand out in the feed while pairing well with your current assets.
Step 3: Blend In To Your Production Process
Whether your show is seasonal or recurring, we'll jump in when the final files are ready. No delays or mix-ups.
Step 4: Run Our Playbook On Every Episode
We turn every recording into dozens of beautiful, engaging promotional assets within 7-10 business days.
THE OUTCOME
Your social media team will be your biggest fans.
Whether you're looking to build your personal brand or generate more business leads from social media, our ready-to-publish marketing assets get the job done.
You'll have plenty of material to fill your queue, including multiple sizes and formats to suit any platform.
SERVICE OPTIONS
"Set It And Forget It" podcast
repurposing for busy teams
Castaway Standard
$1,500
Charged monthly. Cancel any time.
Convert up to 2 episodes per month into dozens of marketing pieces. Perfect for seasonal shows or shows with smaller archives.
We'll turn each episode into:
10+ social media posts

5 audiograms/video clips

2 recap threads

1 blog article

1 episode transcript

1 promo kit for your guest/host
Castaway premium
$3,000
Charged monthly. Cancel any time.
Convert up to 4 episodes per month into dozens of marketing pieces. Perfect for weekly shows or shows with large archives.
We'll turn each episode into:
10+ social media posts

5 audiograms/video clips

2 recap threads

1 blog article

1 episode transcript

1 promo kit for your guest/host
Custom packages and bulk pricing are available.
Got specific needs? Reach out today to receive a personalized estimate within 24 hours.
No pushy sales pitch. No Obligations.
COMMON OBJECTIONS
If you're thinking it, someone
else probably has too.
Do you understand my market / audience?
We do our best to pair you with a team that already knows your industry. If at any point we don't feel that it's a good fit, we'll let you know before you spend any money.NOTE: We don't cover entertainment, politics, religion, or other polarizing topics.
---
Can't I just do all of this myself?
You absolutely can. In fact, that's what we did before launching Castaway. It's not rocket science, but it does take time to find the right tools and processes.Our service is designed for folks who want to skip past the learning curve and focus on the work that they do best.
---
How can I be sure I'll see a positive return?
You can't. Marketing attribution is hard enough, but attributing revenue to podcasting is even harder. The tracking just isn't broadly available.Our happiest clients either:– Already earn money from their podcast
– View their show as an authority/awareness play
– Drive podcast listeners to other channelsPerhaps we can agree that although we can't be 100% certain that Castaway will be a profit center, publishing a podcast without putting any promotional effort behind it is almost certainly leaving opportunity on the table.
Can you edit my show or help me find guests?
We can edit your show, but we work through a trusted partner. We'll manage the relationship, payments, and process for you, but it won't be our team doing the editing.We do not offer podcast outreach or placement services. For that we recommend using Lemonpie.
---
Why is this so expensive? Who can afford this?
We get it. Most shows don't make money and are operating on a lean budget.Our service isn't designed for hobbyist or non-monetized podcasts. It's best suited for shows that already have a revenue stream or can draw a line between increased awareness and more sales for their business.However, if you have a budget of at least $500/month, we can usually put together a custom package that fits your needs and budget.
---
What if I'm not happy with my results?
We typically recommend running a paid test episode as a way to make sure there is a good mutual fit. That comes with a money back guarantee.If you're on a subscription, you can cancel your service at any time. We'll complete your current month and you will not be charged again.
JOIN THE CASTAWAY TEAM
Are you obsessed with podcasts? So are we.
If your friends roll their eyes every time you start a sentence with, "Oh! I heard about that on a podcast the other day," then you'll fit in just fine here.We don't have any specific openings, but we're always looking for writers, social media managers, graphic designers, or video editors who love B2B audio.If that sounds like you and you have availability to take on some freelance work, we'd love to hear from you.
COMING SOON
Whoa! Looks like you caught us
before we were ready.
Admittedly, this site is still a work in progress. If you landed here, it's probably because we've got a great idea sitting in a Google Doc somewhere, but we haven't build a landing page for it yet.
If you're curious about what's coming next, you can follow @trycastaway on Twitter or send @jamesrsowers a DM for regular updates on what we're working on.
Sorry about the confusion!